Corral Panel
Horse/Sheep/Cattle fence panel/Livestock Farm Fence /stockyard corral panel yard gate
Bar Livestock Horse Cattle Yard Fence PanelCorral Panels are made from heavy gauge bar design with a strong vertical centre support in the middle to make the panels structure stronger. Panels are hot-dipped galvanized for maximum corrosion resistance and long life durability. Our corral panel is very easy to set up and dismantle,which are perfect for rounding up cattle or sheep in the fields, penning calves, horse runs and arenas, perimeter fencing.
Manufacture:Hebei Kitchenware Import&Export Trade Co.,Ltd.
From:Hebei China
Tel: 0086-311-68000399
Mobile:0086-311-68000399
Corral Panel
Category Product
FeedBack
Tags:
Horse/Sheep/Cattle fence panel/Livestock Farm Fence /stockyard corral panel yard gate
1.Our livestock cattle panel meets Australia standard, and is very popular in the Australian market
2.the metal panels can be recycled.
3.the metal rails are hot dip galvanized before welding, thus has strong capability of anticorrosive.
4.we are a direct china factory and manufacturer, and can provide you with high quality and best prices.
5.we have more than 8 years exporting experience,and our products are in hot sale in australian markets,uropean countries, america markets etc.
The horse fence panel usually have 3 type of pipe. the detial as the follows
1 round style
material
galvanized then powder coated
finishing(zinc coating)
more than 15 microns
height x length
1800mm*2100mm
vertical pipe

32mmO.D*1.6mm thickness

42mm O,D*1.6mm thickness

horizontal rails

32mmm O,D*1.6mm thickness

42mm O,D*1.6mm thickness

(6 round rails)

welding
Fully welded post brackets
welds
bull bars are fully welded each weld is protected with epoxy paint
2>square tube style
material
galvanized then powder coated
finishing (zinc coating)
mor than 15 microns
heightxlength
1800mm*2100mm
vertical pipe

50*50mm RHS*1.6mm thickness

40*40mm RHS*1.6MM thickness

horizontal rails

50*50mm RHS*1.6mm thickness

40*40mm RHS*1.6mm thickness

(6 square rails)

welding
fully welded post brackets
welds
bull bars are fully welded,each weld is protected with epoxy paint
3> oval tube style
material galvanized then powder coated finishing(zinc coating) mor than 15 microns HeightxLength 1800mm x 2100mm vertical pipe
50 x 50mm RHS x 1.6mm thickness
40 x 40mm RHS x 1.6mm thickness
horizontal rails
30x60mm oval rail x 1.6mm thickness
40x80mm oval rail x 1.6mm thickness
40x120mm oval rail x 1.6mm thickness
(6 oval rails)
Welding
Fully welded post brackets
welds
bull bars are fully welded, each weld is protected with epoxy paint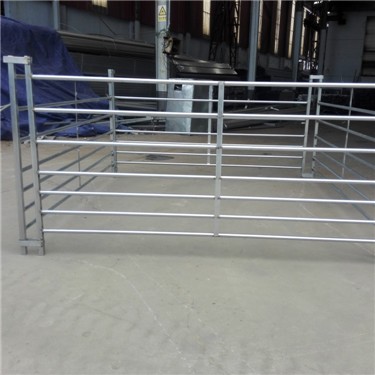 Corral Panel Products Case
Corral Panel Relative Products
Corral Panel
Horse/Sheep/Cattle fence panel/Livestock Farm Fence /stockyard corral panel yard gate
Bar Livestock Horse Cattle Yard Fence PanelCorral Panels are made from heavy gauge bar design with a strong vertical centre support in the middle to make the panels structure stronger. Panels are hot-dipped galvanized for maximum corrosion resistance and long life durability. Our corral panel is very easy to set up and dismantle,which are perfect for rounding up cattle or sheep in the fields, penning calves, horse runs and arenas, perimeter fencing.


Tags:Horse panel box|panel|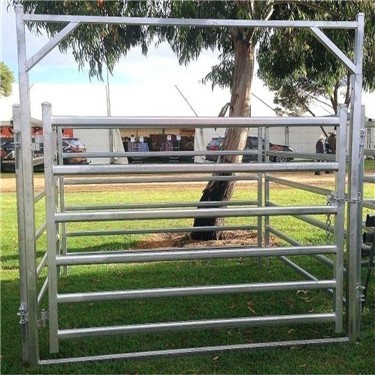 cattle yard panels





Heavy duty galvanized livestock metal fencing cattle yard panels


Tags:Horse panel box|panel|