Hesco Barrier
Material: Low-carbon steel wire Wire Diameter: 4-5.0mm Spring Diameter: 4.0-4.5mm Mesh Hole: 76.2mm× 76.2mm, 50mm× 50mm, 75mm× 75mm, 100mm× 100mm Panel Size: 2.21× 2.13m, 1.37× 1.06m, 0.61× 0.61m, 1.37× 1.22m Geotextile: In heavy duty non-woven polypropylene. Finish: Hot Dipped Galvanized after /before welding, Galfan Coated before welding
Manufacture:Hebei Kitchenware Import&Export Trade Co.,Ltd.
From:Hebei China
Tel: 0086-311-68000399
Mobile:0086-311-68000399
Hesco Gabion
Hesco Gabion Hesco Barrier
FeedBack
Tags:
Hesco Barrier
Hesco Barrier units can be used for perimeter protection, border control and temporary accommodation bunkers.
The Concertainer MIL hesco barrier unit is a multi-cellular barrier system manufactured from welded Zinc-Aluminium coated steel mesh or galvanized steel wire mesh and lined with heavy-duty non-woven polypropylene geotextile. The unique design, strength and versatility enable corners to be constructed easily, shaping the defensive barrier to the surrounding landscape and when joined and filled, the system can be used to create barriers of exceptional strength and structural integrity.
MIL Standard Heavy Galvanizing Gabion Hesco Barrier Wall is a modern security gabion,which is used for flood control and military fortification,made of a collapsible wire mesh container with heavy duty geotextile inside.
The Hesco barriers come in a variety of sizes. Most of the barriers can also be stacked, and they are shipped collapsed in compact sets. Example dimensions of typical configurations are 1.4m x 1.1m x 9.8m (4'6" x 3'6" x 32') to 2.1m x 1.5m x 30m (7' x 5' x 100').
A new system of Hesco Bastion concertainer developed specially for military use is deployed from a container, which is dragged along the line of ground where the barrier is to be formed, unfolding up to several hundred meters of barrier ready for filling within minutes.
Protection
Filled with sand, 60 centimeters (24 inches) of barrier thickness will stop rifle bullets, shell fragments and other shrapnel. Approximately 1.2 meter (four feet) of thickness provides protection against most car bombs.[citation needed] It takes 1.5 meter (five feet) of thickness to prevent penetration by a rocket-propelled round. In addition, Hesco bastions are even more effective than sandbags against water.
Assembling the Hesco bastion entails unfolding it and filling it with sand, soil or gravel – usually using a front end loader.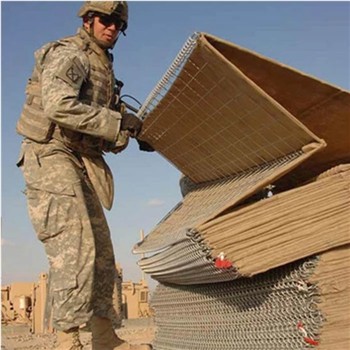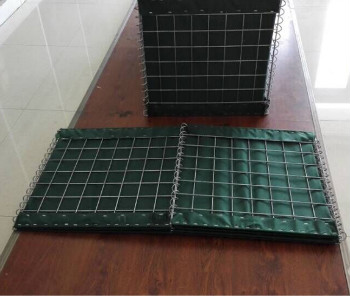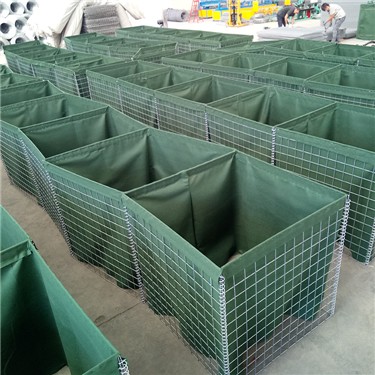 Hesco Barrier Products Case
Hesco Barrier Relative Products
Hesco Barrier
Material: Low-carbon steel wire Wire Diameter: 4-5.0mm Spring Diameter: 4.0-4.5mm Mesh Hole: 76.2mm× 76.2mm, 50mm× 50mm, 75mm× 75mm, 100mm× 100mm Panel Size: 2.21× 2.13m, 1.37× 1.06m, 0.61× 0.61m, 1.37× 1.22m Geotextile: In heavy duty non-woven polypropylene. Finish: Hot Dipped Galvanized after /before welding, Galfan Coated before welding
Tags: